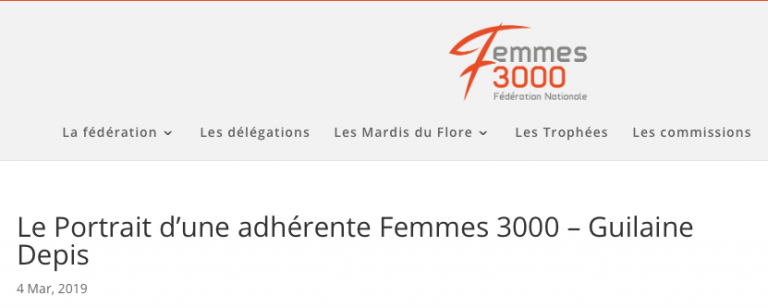 The 3000 Women Newsletter of March 2019: Guilaine Depis honorary member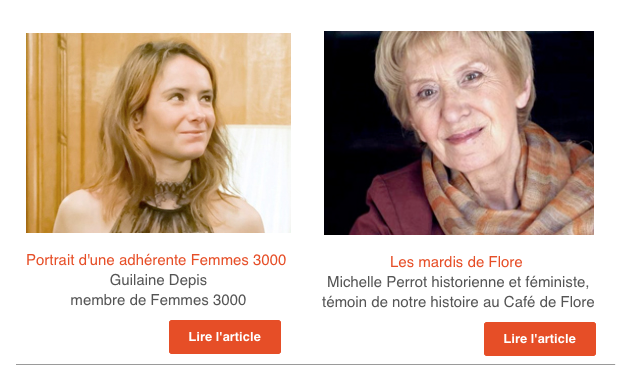 Translation of an article about Guilaine Depis which was written by a French Women'Leaders Club called Femmes 3000 and published here : https://femmes3000.org/le-portrait-dune-adherente-femmes-3000-guilaine-depis/ : 
Born on Christmas Eve of 1979 in Périgueux, Guilaine Depis fulfilled her dream to live in Paris, the city she has always been in love with. Her 19/20 grade at the Literary Baccalaureate is a sign of fate. She's captivated by her studies at the faculty of political science, Sciences-Po, in Toulouse (1997-2001) which gives her the possibility to accomplish an internship at the French Embassy in Japan and another at the General French Consulate in Sydney. After a stay at Langues'O in Japanese at the National Institute of Oriental Languages, she validated a master's degree in "Political Administration" at the Paris 1 Pantheon-Sorbonne faculty. It's during her job as a parliamentary assistant at the Senate in 2005-2006 that she becomes aware of her difference. Caught by the literary environment which she feels much closer to, she hones her skills as a press agent with the rigorous Antoinette Fouque at the publishing house "Editions des Femmes" from 2007 to 2010, where she learns a great deal in a beautiful and stimulating environment.
 
In 2009 it's during this professional experience in a women's environment that shediscoveredthe "Femmes 3000" association. In fact, Christine Spengler, the photographer in charge of highlighting the book, told her she was the guest of the "Mardis du Flore" (Tuesdays at the Flore, a famous Parisian cafe) hosted by the "Femmes 3000" association. Following this first evening of 3rd March 2009 which she attended with pleasure, Guilaine Depis suggested other authors she then represented, such as Christine Orban and Gisèle Halimi, and who were immediately accepted. 
 
Guilaine Depis was seduced straight away by "Femmes 3000", where she's around proactive women with a "constructive" spirit, women who aren't in the resentment or at war with men. This association is, above all, wonderfully led by Line Pierné, its chairwoman, with whom a strong and discrete friendship was born. Guilaine Depis felt a spontaneous deep affection for Line Pierné, and the feeling was mutual. Their sensitivity and their cheerfulness stimulate and respond to each other. Something powerful and authentic, the value of which Guilaine Depis fully understood when she found herself out of employment  in 2010. Line Pierné took her under her wing and recommended her for jobs. She worries about her feelings and regularly calls her to see how she is doing. When you go through an or deal such as unemployment, a phone call doesn't seem much, but it can be huge and important, all the more from the chairwoman of such an amazing association as "Femmes 3000". Guilaine Depis was overwhelmed by so much attention and generosity coming from Line Pierné, seeing her as a radiant sun from whom she can draw energy to bounce back, an image of her she will treasure forever. 
 
In 2010, Guilaine Depis started interviewing prominent figures she admires such as Raphaël Enthoven, Sylvain Tesson, Xavier Darcos, Christine Clerc, etc, for "Le Magazine des livres" (The Books Magazine). It was because of the quality of her interviews published in the written press that in 2018, she was noticed by TV channel ArtLive, whose producers gave her the opportunity to have her own literary show. Amélie Nothomb, Patrick Poivre d'Arvor, Blanche de Richemont, Catherine Lopes-Curval were among her first guests. She is interested in any kind of medium through which she can introduce books and talk with the authors. 
 
Afterher fixed-term contract as a substitute in communications at the prestigious School for Higher Education in Social Sciences (EHESS) in 2011-2012, she decided to create her own business, Balustrade (guilaine-depis.com). She is today a great example of a successful entrepreneur, who fully flourishes being self-employed, with the freedom to select her customers. Her current policy is to diversify the fields in which she carries out press relations, being each year less confined to the sole literary environment. Gifted with a great appetite for encounters and knowledge, she is enthusiastic whenever an unusual customer has the audacity to reach out to her! Everyone may need visibility, so climb on her balustrade! 
 
Guilaine Depis named her business "Balustrade" because it is the allegory she makes of her job as a press agent: you can lean on her in total confidence, she listens, advises, supports and protects you from the outer world, she prevents possible falls, enhances and allows you to aim higher. She assists you with style and introduces you with tact to her soundly-based network of journalists and prominent figures, in addition to 14 years of professional experience in Saint-Germain des Prés, Paris. Her customers are authors, publishers, artists, entrepreneurs, lawyers. Guilaine also takes part in events such as the "Marché de la Poésie" (Poetry Market), the "Mathematical Games and Culture" fair, and the International animal and nature film and photography festival. She is also entrusted with writing jobs: texts on works, forewords and even the writing of entire books. The core of her job and her talent is to build relationships, to mix different environments and coordinate them. Her greatest reward is that most of her customers hire her services year after year, constantly renewing the contracts and talking to their friends about her.
 
Guilaine Depis has been a true auditor of the Pataphysics College since 2009 and attends several literary circles. She's an opera passionate and a member of the AROP (association for the Paris Opera outreach) and the National Richard Wagner Circle since 2010. She goes to Bayreuth and the Met. She's already travelled a lot and far: India, China, Israel, Iran, Russia, Uzbekistan, Turkey, Jordan, the United States. Fortunately, her favorite travel agency, "Voyages intérieurs", based on culture and spirituality, has recently become one of Balustrade's customers.
 
She's been practicing Body Pump and Body Attack for more than 20 years and also horseback riding at the Paris riding center "l'Etrier" since she crossed Mongolia twice on a horse. She collects gallinaceous poultry and shares her apartment in Saint-Germain des Prés with Jasmine Catou, Balustrade's feline personal assistant. 
Guilaine Depis' Balustrade website: guilaine-depis.com